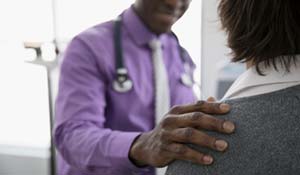 At HCA Midwest Health, we are committed to providing quality and compassionate healthcare near where you live, work and play. We offer over 180 primary care health providers in 35 locations throughout the Kansas City metro area. Many of our primary care offices offer:
Same and next-day appointments for urgent needs
Convenient Online Scheduling
Online health records via our Patient Portal – providing you 24/7 access to your medical information, communication with your doctor and more
Onsite lab and x-ray capabilities
Our providers take the time to develop a personal relationship with you to foster mutual trust and develop the best care plan based on your individual needs. Your HCA Midwest Health primary care doctor can help coordinate your care across most of our more than 150 locations including hospitals, specialist's offices and surgery centers. They can also easily access your personal health records from the care you received at the majority of our providers. This allows your PCP to truly be a partner in managing your health.
What is a Primary Care Doctor?
Primary care providers are healthcare practitioners that manage everyday health for patients. They can consist of family medicine physicians, internal medicine doctors or other general practitioners. Primary care doctors provide routine medical care and specialize in prevention and wellness. They stay on top of your medical history, environmental issues and other factors that could influence your risk in developing chronic medical conditions or disease. They can also help provide acute care for sudden onset of symptoms (cold, flu, stomachache, etc.) and provide oversight and management for more complex health problems such as high blood pressure, diabetes and high cholesterol.
What is an Internal Medicine Doctor?
An Internal Medicine physician is a primary care provider that focuses on prevention, diagnosis and treatment of general and chronic or more complex medical conditions for adults (age 18+). Some of our internal medicine providers even round on their patients in the hospital, should they be admitted.
Find an Internal Medicine Physician
What is a Family Medicine Doctor?
A family physician is a primary care provider that focus on comprehensive patient care for all ages, from birth- geriatrics. Many times, they will care for multiple generations of a family. They focus on wellness, but able to treat a wide-range of medical conditions throughout all stages of life, including care for sudden illnesses. Some primary care physicians even provide OB care, if they have gone on for specialized training in that area.