Make an Appointment OnlineThe HCA Midwest Health System is now pleased to offer online scheduling! Many of our primary care physicians and nurse practitioners offer this new service and more will soon. Please view the online physician directory or the providers listed below for availability.
Patient Care with a Personal Touch at QIM. We strive to put our patients first and have added a new benefit to our care model. We will be rounding on our own patients that have an in-patient stay at Overland Park Regional Medical Center. That's patient Care with a personal touch!
Quivira Internal Medicine is part of the Midwest Physicians network in Kansas City. The Offices of Quivira Internal Medicine are located on the east side of Quivira Road, near Overland Park Regional Medical Center. With over 30 years at this location, our experienced physicians and staff are here to serve our community. We take same day appointments and can accommodate new patients.
Quivira Internal Medicine is located in the Johnson County area with 9 physicians. Our practice consists of 9 internists and 3 nurse practitioners. All of our physicians are board-certified*. In addition to our in-house laboratory, Quivira Internal Medicine has the ability to administer and interpret the following capabilities on-site:
Bone Densities (DEXA)
Diabetic Education
Full X-rays
Aorta Scanning
Bladder Scanning
Glucose Testing
Spirometry- (PFT )
Quivira Internal Medicine dedicates itself to staying on the cutting edge of medical technology and therapeutics. Therapeutic areas include diabetes, hyperlipidemia, hypertension, osteoporosis and infectious disease.
Comprehensive care: Quivira Internal Medicine performs comprehensive physical examinations. Wellness and prevention is the best and most cost-effective medical care. Scheduling is optimized to try and get a full examination and studies done within the most convenient time frame for the patient.
Quivira Internal Medicine is part of the Midwest Physicians network in Kansas City. We are affiliated with Overland Park Regional Medical Center as well as the hospitals of HCA Midwest Health System.
Please call (913) 541-3340 to schedule an appointment. For cancelations, please provide a 24-hour notice.
As part of our commitment to providing quality healthcare, we have a fully integrated electronic medical record system allowing our physicians access to patient information 24/7, even during emergencies. Additionally, we are able to send e-prescriptions directly to participating pharmacies.
Information, Hours & Directions
Our Doctors and Healthcare Providers
Insurance and Payment
Additional Resources
Forms
Tell us about your patient experience!
* New physicians are in the process of becoming board certified.
Patient-Centered Medical Home Recognized Practice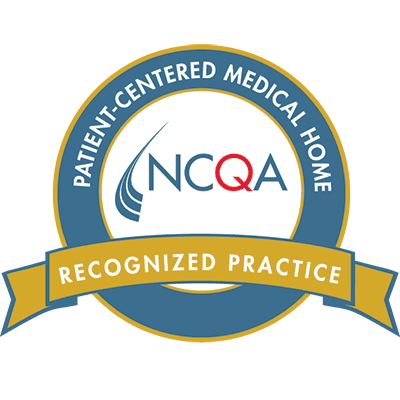 The patient-centered medical home is a model of care that emphasizes care coordination and communication to transform primary care into "what patients want it to be." NCQA Patient-Centered Medical Home (PCMH) Recognition is the most widely adopted model for transforming primary care practices into medical homes. Patients in medical homes receive the right care, in the right amount, at the right time. This increasingly popular delivery system modernization leads to safer and better care, empowers patients and renews the patient-provider relationship.