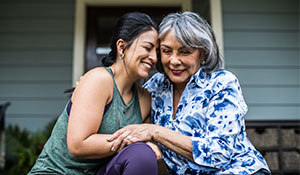 Advanced neurology care delivered by highly-trained specialists in locations across the Kansas City metro area.
The neurosciences team of HCA Midwest Health offers advanced and progressive care for a wide range of neurological conditions including stroke, Parkinson's disease, epilepsy, memory loss and Alzheimer's disease, brain cancer and more.
Our physicians are researchers as well as clinicians, and experts in the latest diagnostic and treatment advances. These specialists understand that issues with the brain and nervous system are often complex, with each patient requiring a highly individualized level of care. Consequently, they approach each person's care in comprehensive, multi-disciplinary and personalized manner.
As part of the HCA Midwest Health Neuroscience Institute, our neurologists are committed to a team-oriented approach, working closely with colleagues including primary care physicians, neurosurgeons, specialists in neuro-oncology and neuroradiology, and others. In every case, we strive to develop a plan of care to restore health and quality of life for those impacted by neurology-related conditions or injuries.
HCA Midwest Health neurologists are conveniently located throughout the region. Our practices accept most health insurance plans and we can assist you in checking coverage.
(816) 751-4884 (MO) (913) 541-7478 (KS)
Neurology expertise in Kansas City
Our neurologists possess the skills and expertise to deliver care for a full range of brain and nervous system issues. Our physicians offer specialized expertise in:
Brain tumors – Our doctors leverage advanced technology such as radiosurgery to treat brain tumors in the least invasive way possible.
Epilepsy – Our epilepsy specialists are knowledgeable, skilled and compassionate. They offer the latest in therapies for epilepsy and other seizure disorders for patients aged four years and older. Through Menorah Medical Center's Epilepsy Center, patients have access to an outstanding resource recognized by the National Association of Epilepsy Centers (NAEC).
Movement disorders/Parkinson's disease – Our physicians use a wide range of options including deep brain stimulation, Duopa infusion therapy and other advanced therapies to treat the symptoms of Parkinson's disease and other movement disorders. Centerpoint Medical Center and Overland Park Regional Medical Center offer dedicated movement disorders centers.
Pediatric neurology – Our pediatric neurology specialists understand the fears and concerns involved in children's neurology issues. We partner closely with pediatricians as well as parents and patients to ensure each child gets the specialized care he or she needs.
Memory Loss conditions – Our neurologists are experienced in diagnosis and comprehensive treatment for Alzheimer's disease and dementia.
Stroke and TIA
HCA Midwest neurologists are affiliated with the area's largest network of stroke-designated hospitals so that you are assured of excellent nearby care, wherever you are in the community. Our doctors are skilled at the latest in clot-busting medicines that can save brain in stroke situations. We also operate three TIA (transient ischemic attack) Clinics as part of the HCA Midwest Health Neuroscience Institute. The clinics are specially designed with convenience in mind to help patients who have been diagnosed with these "mini or warning strokes," which puts them at higher risk of stroke.
What is a neurologist?
A neurologist is a specialist who diagnoses and treats conditions of the brain, spinal cord, and nervous system.
What is a neurosurgeon?
A neurosurgeon specializes in surgeries of the brain, spine and nervous system.
Common conditions we treat
Alzheimer's disease (and other dementias):

Amyotrophic Lateral Sclerosis (Lou Gehrig's disease)

Brain and spinal cord infection
Brain injuries
Brain tumors
Dizziness and Vertigo
Epilepsy and seizure disorders epilepsy
Huntington's Disease
Migraine and headaches
Movement disorders, such as Parkinson's disease
Multiple sclerosis
Peripheral neuropathy
TIA and Stroke
Tremors
Common procedures
Computerized tomography (CT) scan
Electroencephalogram (EEG)
Electromyogram (EMG)
Evoked potentials to measure your brain's response to stimulation
Magnetic resonance angiogram (MRA)
Magnetic resonance imaging (MRI)
Muscle or nerve biopsy
Nerve conduction study (NCS)
Non-invasive (blood and urine) tests
Spinal tap