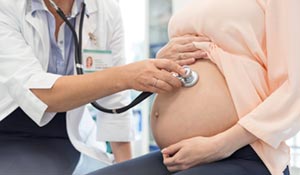 Experienced, board-certified obstetricians and gynecologists located across the Kansas City metro area
The HCA Midwest Health Physician Services Group team of highly-skilled, board-certified ObGyn specialists offers decades of experience providing compassionate and personalized care for women at all stages of life.
Women's Health Clinics
Personalized care: With more than 19 physicians to choose from, you can always find an obstetrician that fits your needs and preferences.
Easy access: Our board-certified ObGyns are located in communities across the KC metro area. Wherever you are – Belton, Lee's Summit or Independence, Mo., or Overland Park, Leawood or Olathe, Kan., – you'll never have to travel far for expert women's care.
Convenience: We offer Fast appointment availability for routine care and quick access to physicians when needed for problems or emergencies.
Comprehensive childbirth care: Our Obs have decades of experience in pregnancy care, from preconception counseling and prenatal care to your baby's birth and postpartum care. They are highly skilled in both routine and high-risk pregnancies, including the specialized care required for multiples.
Complete well-woman and preventive care: Our gynecologists have expertise in female health issues – menstrual irregularities, conditions such as endometriosis or ovarian cysts, menopause and much more.
Call to find an ObGyn. See accepted insurance plans.
Obstetrics and Gynecologic Expertise in Kansas City
Whether you're looking for contraception and family planning advice, or are ready to expand your family, our obstetrician gynecologists have the expertise to help:
Childbirth–Our physicians are with you every step of the journey, from delivery through post pregnancy with important services like breastfeeding support.
Fertility– When pregnancy doesn't happen as quickly or easily as hoped, our ObGyns work closely with fertility specialists to identify and treat conditions which may be preventing a woman from becoming pregnant.
High-risk pregnancy care– Through our maternal-fetal medicine network, we offer the region's most experienced team to support high-risk moms-to-be.
Preconception counseling – Our obstetricians offer comprehensive pre-pregnancy counseling, from how to get pregnant to nutritional and lifestyle choices, and habits for a healthy pregnancy.
Prenatal care – From conception until your baby is delivered, our childbirth experts closely follow your pregnancy with comprehensive prenatal screening tests, prenatal counseling and regular visits and ultrasound.
Gynecologic Care for All of Life's Stages
HCA Midwest Health ObGyns provide comprehensive care – from adolescent gynecology and well-woman care to contraception counseling or relief from menopause symptoms. We also have physicians specializing in minimally-invasive female surgeries as well as care for pelvic and bladder issues, reproductive cancers and other female health conditions.
Learn more about our gynecologists.
What is an ObGyn?
An obstetrician-gynecologist (ObGyn) is a doctor with specialized training in the female reproductive system and health, pregnancy, and childbirth. While some Obs provide a wide range of services similar to a primary care physician, others focus specifically on pregnancy and the care of the reproductive system.
What is a Gynecologist?
A gynecologist specializes in women's health, with training and expertise in the female reproductive system. Some gynecologists (Gyns) focus primarily on non-maternity care such as well-woman care, managing menstruation issues, hormone disorders, and other conditions.
Maternity Hospitals in Kansas City
For comfort, safety, expertise and amenities – more moms in Kansas City choose HCA Midwest Health hospitals for having their babies. No matter your needs or preferences, we make sure you and your baby get the happiest, healthiest start possible.
Common Conditions Treated by an Ob
Fertility issues
Ectopic Pregnancy
High-risk pregnancy, including multiples
Preeclampsia
Health conditions potentially causing pregnancy or childbirth issues – high blood pressure, diabetes, infections, genetic disorders
Common issues in pregnancy – morning sickness, back pain, heartburn, etc.
Postpartum problems
Common Procedures
Fertility work-ups
Routine prenatal testing
Ultrasound
Genetic testing (if desired)
Natural childbirth delivery
Cesarean Section birth
Vaginal Birth After Cesarean (VBAC)