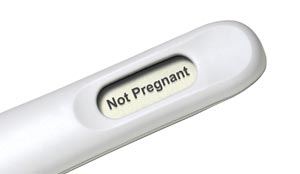 Obs in Independence and Blue Springs, Mo. with years of experience in helping women become pregnant
Sometimes pregnancy doesn't happen as quickly or easily as hoped. If you're struggling to become pregnant, you're not alone. In fact, up to 15 percent of American couples can have issues with infertility. The reasons for difficulties in getting pregnant vary greatly and may impact men, women or even both.
Sorting out exactly why a woman isn't conceiving can sometimes be a complex exercise. You can be assured that the physicians of Healthcare for Women Medical Group are experienced at diagnosing and helping women understand causes of fertility issues. We will work closely with you to overcome barriers to childbirth.
Find an ObGyn

Call Us (816) 350-1200
Comprehensive Fertility Evaluation
Because pregnancy doesn't always happen immediately, in most cases, we advise women under 35 to try to conceive for at least a year before fertility exploration or work-ups. For those over 35, we usually begin to look at possible fertility issues after six months. Prior to exploring fertility options, we may suggest that you try a menstrual calendar app to track your cycle and/or an ovulation test or app to chart ovulation.
Once you and the doctor decide it's time to explore possible reasons you may not be conceiving, the next step is a fertility workup, starting with an initial conversation and evaluation with your doctor.
Health history review – This can uncover any health issues that may be contributing to your struggles to conceive. For example, pituitary or thyroid gland issues can impact your fertility. Diet and lifestyle habits (i.e. being overweight, smoking) can also impact your ability to get pregnant
Sexual and gynecological history – Past infections and menstrual irregularities can cause issues getting pregnant. If we know about these, we can order appropriate testing more expediently.
Your partner's history – Nearly 40 percent of infertility problems are caused by sperm quality and/or quantity. Our physicians will order semen analysis and tests, if warranted, to determine any issues or infections impacting the father.
Lab Tests – Certain lab tests will tell us if your pregnancy hormones are at the appropriate levels for ovulation and conceiving.
Hysterosalpingogram – This imaging procedure which uses an X-ray to look at your fallopian tubes and uterus, is done as an outpatient in the hospitals' radiology department.
Possible Infertility Causes
Infertility can be caused by several factors such as:
Mother's age – as women age, the quality of their eggs begins to diminish
Pregnancy hormone insufficiencies
Problems ovulating
Chronic health conditions
Egg and/or sperm health
Blockages or issues in the fallopian tubes
An inability for a fertilized egg to implant in the uterus.
Because fertility can come from factors impacting both men and women, we facilitate fertility testing in men as well as women.
Treating Infertility
Our physicians use treatments including medications to regulate your cycle or facilitate ovulation, and minimally invasive procedures that may correct conditions like endometriosis – all of which can ease the way to pregnancy. In cases where the cause of infertility cannot be diagnosed or more specialized care is required, we will refer you to an infertility specialist. Eventual treatments could be surgery or medicine, depending on the cause. More advanced infertility treatments include:
In vitro fertilization (IVF)
Artificial insemination
Egg or sperm donor programs
Pregnancy loss evaluation
Tubal surgery or reversals
HCA Midwest Health – Advanced Fertility Resources
Through our Centerpoint Medical Center affiliation, our physicians work closely with physicians who specialize in fertility medicine. The referral is seamless and your Ob will stay up-to-date on diagnoses or treatments to ensure smooth continuity of care for you.