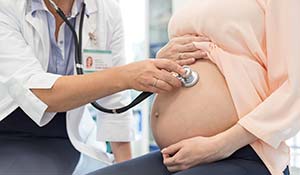 Comprehensive prenatal care in Independence and Blue Springs, Mo. and other Eastern Jackson County communities
Becoming pregnant is one of life's most exciting events. At Healthcare for Women Medical Group, it's been our privilege to share that special time with the many woman who have chosen us for prenatal care. We believe that each woman and her pregnancy are unique – a belief that guides our care from the very first prenatal visit through baby's birth and post-childbirth care.
We listen. Our providers understand the concerns and anxieties of pregnancy, and offer you the education, advice and compassionate manner to try and help alleviate them.
We're available. We encourage our expectant moms to reach out with any concerns. Your questions are answered promptly and one of our providers is always accessible in cases of emergency or concern.
We respect and empower. We know every woman has individual preferences for her child's birth. We do our utmost to honor those, while keeping you and your baby safe during pregnancy and delivery
Find a Prenatal Care Doctor

Call Us (816) 350-1200
All Your Maternity Care in One Convenient Location
The obstetricians and nurses of Healthcare for Women Medical Group have experience in caring for women in both routine and high-risk pregnancy situations. We closely monitor mothers and babies throughout pregnancy to try and minimize the risk of complications. We provide:
Comprehensive prenatal screening tests
Prenatal counseling
Regular office visits
Pregnancy blood tests and ultrasound
Onsite lab facilities
State-of-the-art ultrasound suite
Preparing for Your First Visit
Welcome to our practice and congratulations on your pregnancy! To make the best use of your first prenatal visit, please take a few moments to fill out your new (or transferring) patient forms. We also suggest:
Begin taking your prenatal vitamins, if you aren't already. If you are nauseated and unable to tolerate them, make sure to take 1 MG of folic acid daily. Do not take other multivitamins in addition to your prenatal vitamins. Discuss any supplements/herbal medicines with your provider before taking them in pregnancy
Many expectant moms have questions around genetic and noninvasive prenatal testing (NiPT) and screenings. Please take a few moments to review the videos and information we have provided, so that you can discuss it with your doctor. Prenatal screening is a personal choice and we want to make sure you have the information you need to discuss this with your doctor.
Vaccines
Please review the information on pregnancy and vaccines so you can talk with your doctor about the necessary ones to protect you and your baby, and the appropriate time to receive them.
If it's flu season and you haven't had a flu shot, please get one. Flu vaccinations are recommended by the Centers for Disease Control, the American College of Obstetricians and Gynecologists, and are very important during pregnancy.
A TDAP (tetanus, diphtheria and pertussis or "whooping cough") is recommended sometime in the early third trimester. You will also want those adults in contact with your baby (grandparents, daycare providers, babysitters, etc.) to be vaccinated.
What to Expect
During your first pregnancy visit, your doctor will perform a thorough exam and ask for a detailed health history. You can expect:
Vital signs check – blood pressure, height and weight
Urine specimen collection – to check for any signs of infection
Pregnancy blood tests – Hep B status, Ob profile, Blood Type and Rh, and HIV test
Be prepared to give a complete ObGyn, medical, family and medication history
This thorough exam provides a baseline for your ongoing care and allows the doctor to rule out or understand any existing health concerns. Our goal is to try and ensure you have the information and education you need and want, so please bring any questions and concerns for your doctor.
Prenatal Counseling
Throughout pregnancy, your doctor and nurses are available to:
Assess your nutrition and health habits
Discuss common pregnancy complaints such as morning sickness, back pain, heartburn and others, and how to manage them
Make sure you are aware of symptoms that might indicate a problem and that you know when to call us
Remember, we are always only a phone call away when you need us during your pregnancy. We would far rather you call with any question than worry, and will always work you in quickly if you need to be seen.
Routine Prenatal Visits
Your routine visits help your doctor monitor your pregnancy. In these visits, we will generally:
Collect a urine sample to check for any signs of infection
Check for weight gain and growth progress
Measure your baby's growth in your belly
Listen to the baby's heartbeat
Discuss your concerns or questions
With a normal pregnancy you will see your doctor monthly for the first four to 28 weeks, every other week from 28 to 36 weeks and every week from 36 weeks until delivery.
Additional testing you may have during routine prenatal visits are:
Genetic chromosome screening [10 to 15 weeks]
Alpha-Fetoprotein genetic screening, if desired [15 to 21 weeks]
Ultrasound [19 to 22 weeks]
Gestational diabetes screening [24 to 28 weeks]
Antibody screen lab draw for those who are Rh negative blood type [27 to 28 weeks]
Group B Strep [35 to 37 weeks]
Cervical checks as indicated for dilation and position
Pregnancy with risk serial growth ultrasounds, non-stress testing, biophysical profile (BPP) if indicated
As your pregnancy progresses, you will want to talk with the doctor about your birth plan or any specific wishes for your baby's birth. Many of the things patients have told us they wanted for their birth experience are already standard practices for us:
We routinely allow the attending family member to cut the umbilical cord if he or she wants
Your baby is usually placed on your abdomen immediately after birth as a way to help foster early bonding. We do everything possible for you to immediately have this bonding skin-to-skin contact with your baby even in cases where a C-section is necessary.
We want you to have the experience you want and will work to accommodate your wishes, while working to keep you and your baby safe.
Ultrasound
In-office (Independence location) pregnancy ultrasounds are performed by specially trained technicians to monitor your baby's development and detect any problems. This allows your doctor to go over results with you during your office visit.
The ultrasound is used to check baby's anatomy, growth, placenta, fluids and screen for any defects
An anatomic survey ultrasound is routinely performed between 19 and 21 weeks of pregnancy, at which you can see the gender if you choose. Other ultrasound is based on risk factors.
Prenatal Genetic Screening Tests and Counseling
Genetic screening is available to all patients, but not required. We believe genetic testing is a personal decision for you to discuss with your Ob. For those parents who want to undergo prenatal and genetic screenings, we offer comprehensive screening for conditions such as spina bifida, and for chromosomal or genetic abnormalities.
Specialized Care for Potential High-risk Pregnancy
Our Obs are experienced and skilled at caring for women with conditions which may put them in a higher risk category. When needed, we work closely with perinatologists and other high-risk specialists to closely monitor moms in high-risk pregnancies.
Labor and Delivery
All of our OBs deliver babies at Centerpoint Medical Center, recently named as one of Kansas City's favorite places to have a baby. The experienced nursing staff at the hospital is prepared to handle both routine and high-risk pregnancies. The hospital's level III neonatal intensive care unit (NICU), equipped with the latest technology to support preemies and other fragile newborns, keeps babies close to mom and family until they can go home. The NICU team cares for babies born as early as 28 weeks.
Preparing for Your Big Day!
Over the months of your pregnancy and getting ready for your delivery, we encourage you to:
Enroll for childbirth or breastfeeding classes